VIDEO SHOW
Takii Seed 180-year History

From Takii Seed Spring Trials,a 180-year long history of excellence in the horticulture trade, showing a time line of firsts from years ago to the present.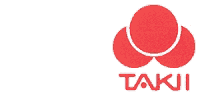 From American Takii
(04/14/2016)

---
OTHER FEATURED CALIFORNIA SPRING TRIALS VIDEOS
Spring Trials 2016: Kelos Atomic™ Celosa spicata
As seen @ Beekenkamp during Spring Trials, featuring: 'Purple Pink', 'Light Pink', 'Neon Purple' and 'Violet'.
Spring Trials 2016: New Windchimes™ Fuchsia
Larger flowers, maintaining well-branched habit and early flowering, tolerant of higher light and temperatures. New Windchimes 'Dark Eyes', New WindChimes 'Rose & Purple'; Windchimes Upright 'Lilac Rose', 'Upright Red White' (new), 'Upright White', 'Upright Neon White' (new).