VIDEO SHOW
Takii Seed 180-year History

From Takii Seed Spring Trials,a 180-year long history of excellence in the horticulture trade, showing a time line of firsts from years ago to the present.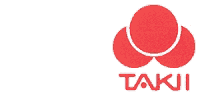 From American Takii
(04/14/2016)

---
OTHER FEATURED CALIFORNIA SPRING TRIALS VIDEOS
2014 Spring Trials: Syngenta Synchro and Lasar Synchro Cyclamen
Lasar Synchro Rose Flame, Salmon, Scarlet, White, Snowridge Purple, Synchro Purple, Pink, Snowridge Wine, Wine, Wine Flame
Spring Trials 2016: Good and Plenty™ Petunia
Two new varieties: 'Pink Star', 'Bubblicious'. These are early to flower, mounding and spreading habit, ideal for mixed containers. Eighteen Colors in the Series including existing Blue Ice, Blue, Night Life, White, Yellow, Rose, Purple Skirt ..... the whole spectrum and then some.