VIDEO SHOW
Trilogy™ Petunias

From Takii Seed Spring Trials, a new Trilogy Petunia, 'Deep Purple', in addition to existing varieties which provide for minimal growth regulators, longer lasting blooms on retail shelves with out tangling, maintaining its tidy dome shape and blooms all season long with minimal care. Showing: ''76 Mix', 'Lavender Pink', 'Rose', 'Red' (AAS Winner), 'Deep Purple' (new), "Salmon', 'Blue'.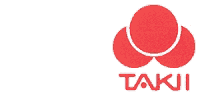 From American Takii
(04/14/2016)

---
OTHER FEATURED CALIFORNIA SPRING TRIALS VIDEOS
Spring Trials 2016: Paradise® Rococco Series
From Dummen Orange Paradise Rococco New Guinea Impatiens showing: 'Purple', 'Pink', 'Apricot Cream', 'Lavender' (2017), Coral (2017), 'Hot Orange', 'White' (2017).
Basil Tree
From Hishtil Nurseries @ Spring Trials 2015: popular, bonsai-like basil that retains form for years; grafted ocimum minimum 'El Greco'; Capsipop ornamental pepper; plug trays.