VIDEO SHOW
Everlast™ Pelargonium

From Takii Seed Spring Trials, an Experimental Pelargonium F1 in the Everlast series, featuring: 'Red', 'Appleblossom', 'Orange', 'Salmon' and "White'.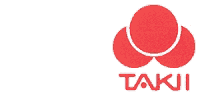 From American Takii
(04/14/2016)

---
OTHER FEATURED CALIFORNIA SPRING TRIALS VIDEOS
Spring Trials 2016: Cannova® Canna
From Ball Horticultural, a full compliment of Canna from Ball Ingenuity, featuring: 'Lemon', 'Red Shades', 'Mango' (new), 'Rose', 'Orange Shades', 'Yellow', 'Bronze Scarlet' and 'Rose'.
Imagine Dahlia
From Cohen Propagation Nurseries @ Spring Trials 2015: Dahlia Imagine 'Power Red/White', 'Power White' (new), Power 'Yellow Orange', Power 'Rose' (new), 'Power Yellow Red' (new).