VIDEO SHOW
New Coleus II

From Terra Nova, new Coleus introductions, featuring Hipsters 'Zoe', ColorClouds 'Honey Bear', TerraNova 'Jitters', GlobeTrotters 'Jackie', 'Bright Spark', Tidbits 'Tammy', Wildfire 'Ignition'.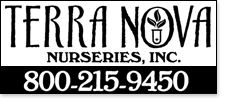 From Terra Nova Nurseries
(04/14/2016)

---
OTHER FEATURED CALIFORNIA SPRING TRIALS VIDEOS
Spring Trials 2016: Night Sky Petunia
Boldly going where no petunia has gone. A speckled or mottled petunia with a stunning color. Matches Headliner™ in habit and timing; hot days and cool nights cause bloom to turn white; high day and night temperatures cause blooms to turn purple.
New Varieties 2015
From Sakata Seed @ Spring Trials 2015: New Marigold Proud Mary 'Yellow, Proud Mary 'Orange, Improved Senator 'White' Begonia, Disco Belle Hibiscus 'Pink', 'Rosy Red' and 'White'.