VIDEO SHOW
New Coleus

From Terra Nova, new Coleus introductions, featuring TerraNova 'Jitters', 'Bright Spark', Tidbits 'Tammy', Wildfie 'Ignition', 'Pink Poodle', 'Bright Spark'.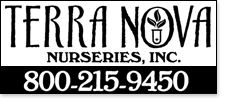 From Terra Nova Nurseries
(04/14/2016)

---
OTHER FEATURED CALIFORNIA SPRING TRIALS VIDEOS
New Varieties IV
New Mixis Combinations @ Danziger "Dan" Flower Farm, Spring Trials 2015, include: Patriot: Noa® 'Red Improved', 'Blue Legend' and 'Snow'; Summer Parade: Noa Calibrachoa 'Blue Legend', 'Dark Pink Carnival' & 'Cherry Blossom'; Cotton Candy Delight: Little
Bengal Gerbera jamissonae
Rose with Eye', 'Orange', 'White', 'Red with Eye', 'Yellow with Eye', 'Orange with Eye'. More vigorous than Jaguar; great for year-round for patio, indoor decorating, gift giving; six classic colors.