VIDEO SHOW
New Coleus

From Terra Nova, new Coleus introductions, featuring TerraNova 'Jitters', 'Bright Spark', Tidbits 'Tammy', Wildfie 'Ignition', 'Pink Poodle', 'Bright Spark'.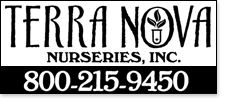 From Terra Nova Nurseries
(04/14/2016)

---
OTHER FEATURED CALIFORNIA SPRING TRIALS VIDEOS
Spring Trials 2016: Bella™ Fuschia hybrid
As seen @ Beekenkamp during California Spring Trials, featuring: 'Vera', 'Nora', 'Evita' and 'Mariska'.
2014 Spring Trials: HORTCOUTURE Glamouflage Petunia
Existing Grape and new Blueberry Glamouflage Petunia, the first variegated petunia on the market.