VIDEO SHOW
New Windchimes™ Fuchsia

Larger flowers, maintaining well-branched habit and early flowering, tolerant of higher light and temperatures. New Windchimes 'Dark Eyes', New WindChimes 'Rose & Purple'; Windchimes Upright 'Lilac Rose', 'Upright Red White' (new), 'Upright White', 'Upright Neon White' (new).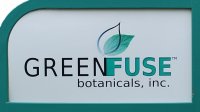 From GreenFuse Botanicals
(04/14/2016)

---
OTHER FEATURED CALIFORNIA SPRING TRIALS VIDEOS
Alstroemeria
From Dümmen Orange @ Spring Trials 2015: Existing & Pre-introduction Alstroemeria 'Dark Purple', 'PI 502', 'Passion', 'Red', 'Indigo', Intancancha 'Sunshine', PI 905', 'PI 701', 'PI 2002', 'PI 230', 'PI 321', 'PI 5005', 'PI 6005'
Kieft Seed Mega Revolution Gerbera
From Ball Horticultural Spring Trials, 2015, several new and existing Revolution and Mega Revolution Gerbera.