On the Road with CaliforniaSpringTrials.org
On the Road with CaliforniaSpringTrials.org
On the Road with CaliforniaSpringTrials.org
On the Road with CaliforniaSpringTrials.org
On the Road with CaliforniaSpringTrials.org
On the Road with CaliforniaSpringTrials.org
On the Road with CaliforniaSpringTrials.org
On the Road with CaliforniaSpringTrials.org
On the Road with CaliforniaSpringTrials.org
California Spring Trials (noun)
Spring Trials represents the genesis of Floriculture and the Horticulture industries. It is an annual event where the world's prominent breeders, growers, educators, brokers, marketing professionals and other plant enthusiasts review new annual, perennial, ornamental, grass and vegetable introductions. Typically held in March or April, the event takes place throughout California at several breeder/grower locations. From Spring Trials, new varieties are tested and trialed throughout the world in trial and display gardens to determine performance characteristics and market suitability.
FEATURED 2016 SPRING TRIALS INTRODUCTION VIDEO VIDEO INDEX ---->
New Coreopsis

From Terra Nova, new Coreopsis featuring: 'Buttermilk', 'Lady Bird', 'Lightning Bug', 'FireFly', 'Imperial Sun'. Long bloom times, very hardy, clean manicured habit.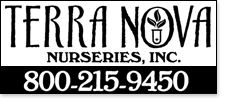 @ Terra Nova Nurseries
(14 Apr, 2016)

CALIFORNIA SPRING TRIALS NEWS
FEATURED NEW INTRODUCTIONS 2016 2015 2014
Tuesday, January 17, 2017
Ciao Chrysanthemum 'Red'


Photo: SpringTrials.org
Spring Trials 2016: New Calibrachoa & Littletunias™ Video: SpringTrials.org
See All Videos