The leader in marigold breeding and production.
ORGANIZATION DETAILS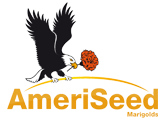 Ameriseed, Inc.
3877 Via Parte
Lompoc, CA 93436 USA







Established in 1982, AmeriSeed is one of the leading International flower seed breeding, production and distribution companies servicing the professional and home garden market, with Asian headquarters in Thailand and American offices in Lompoc, California. We specialize in Hybrid Marigold varieties. We also breed triploid and French Marigolds. Our F1 Marigold varieties include Dwarf, Semi-Dwarf, Semi-Tall, Tall Cut Flower and Garland types.